Celtic Harp, Vocals and Metal Percussion
"Ethereal and haunting "The Glow Within" intertwines the beautiful Celtic harp playing and voice of Nadia Birkenstock with the amazing percussion of Steve Hubback."

Indie Shaman Magazine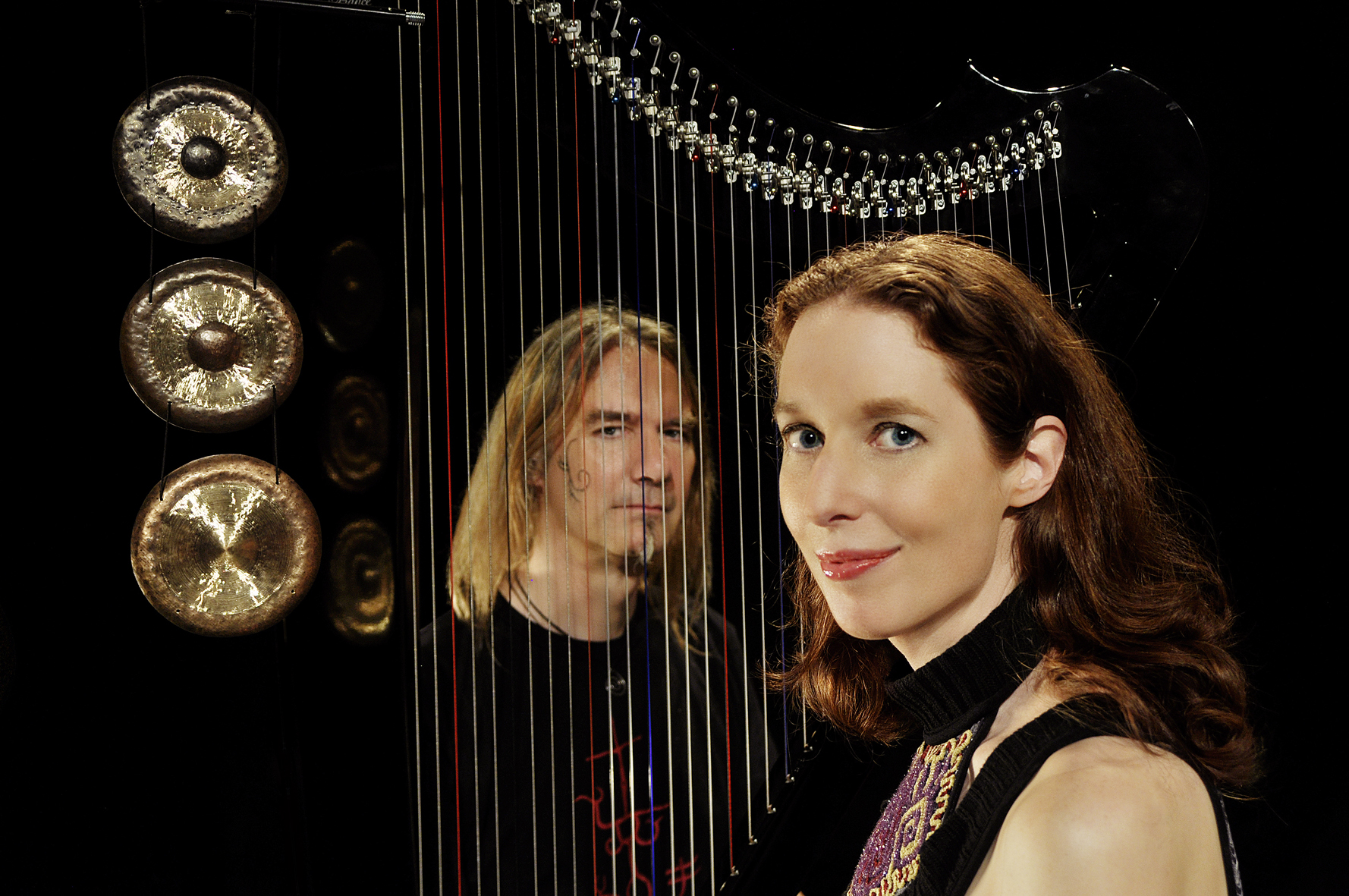 Nadia Birkenstock (D) – Celtic Harps, Vocals
Steve Hubback (Wales) – Percussion
The journey into the unusual acoustic landscapes begins mysteriously, building up a broad tonal spectrum:
sparkling and shimmering, harp and dulcimer cascading over gong and psaltery tones. A delicate dance-like melody ensues, metamorphosing into a more complex improvised section. Harp notes hover between brilliant gongs and cymbals, borne along by a velvety bass drum: when both musicians weave their tonal fabric, it creates a virtually irresistible aura, tonal beauty and a depth of sound you cannot get enough of! Tonal landscapes in which you can fully immerse yourself because there is so much to see and hear.
In this project, Nadia Birkenstock is joined by percussionist and gongsmith Steve Hubback from Wales.
Steve Hubback has a fascinating CV: he began his musical career as a professional drummer and percussionist, touring the whole of Europe and even reaching South Korea. Always on the lookout for unusual percussion sounds, he discovered metalworking in Scandinavia and started to manufacture his own instruments. This was a great success: within two years leading Scandinavian percussionists were using his instruments, which soon invaded the global percussion scene. With his instruments and tonal sculptures, which are breathtakingly beautiful not only in terms of sound but also visually, he is a pioneer in the field of cymbal and gong design.
Nadia and Steve quickly found common musical ground, both of them being open to experimentation and improvisation.
Their joint live debut was at the opening concert of the international harp festival in Sentmenat/Barcelona 2010. This was followed by concerts in the Czech Republic, Germany, Italy, Belgium, the Netherlands and France.
Nadia Birkenstock and Steve Hubback lure their audiences into magical soundscapes full of virtuosity, rhythm, precision and joyful experimentation, from the deepest harp notes during the atmospheric intro to the meteoric brilliance of the metal percussion on the rhythmic pieces.

"Acoustic landscapes to an imaginary movie"
Jazz Podium