Nadia Birkenstock
Harpist – Singer – Composer
Nadia Birkenstock was born in Solingen in the north west of Germany.
She started playing the piano at five and joined various choirs and vocal ensembles during her teenage years.
Her first contact with the Celtic harp was a concert of the legendary Scottish harp duo "Sileas" (Patsy Seddon and Mary McMaster).
She started to play the Celtic Harp at 16 (first self taught, later on with a classically trained teacher) and attended masterclasses with Kim Robertson (USA), Bill Taylor (Scotland) and others.
Thanks to a one-year scholarship (ASSIST), she received her first vocal training in the USA (Westover School, Connecticut) and afterwards studied voice at the Music Conservatory of Duesseldorf in Germany.
During her vocal studies she created her first solo performance program for Celtic harp and voice and is since touring internationally, playing concerts and festivals, and teaching workshops.
Festival appearances include the "Southeastern Harp Festival" (North Carolina/USA), the "Sentmenat International Harp Festival" (Barcelona/Spanien), the "Rencontres Internationales de la Harpe Celtique" at Dinan (France, Brittany), the "Bardonnecchia International Harp Festival" (Turin/Italy), the festival CELTICA (Italy),the festival "Seduced by Harps" (Belgium),the "Harp Friends Meeting Leerdam" (Netherlands), the "Schlossfestspiele Potsdam Sanssouci" (Berlin), the Venne Folk Festival and the Keltenfest Buchberg (Switzerland).
She also frequently plays for the Irish Embassies in Cologne, Munich and Frankfurt.
Nadia's repertoire features both original songs and compositions and traditional Celtic folk songs and harp tunes.
Requests for musical collaborations have lead to various expanded arrangements of her compositions, including for string quartet, organ and four part choir as well as electronic remixes.
In 2001 her first solo album "Emerald Isles" was released, followed by "Wandering between the Worlds" (2003), "Winter Tales" (LAIKA 2006), "Les Berceuses de Coline" (an assignment for the French company "Grandir Nature" in 2007) and her songwriting debut, "Strange New Land" (LAIKA 2008).
In 2011 the CD "The Enchanted Lake/Der verzauberte See" was released, featuring Dublin actor and musician Mick Fitzgerlad (ex "Wild Geese"). This CD was awarded the "Global Music Award".
"The Glow Within" (LAIKA 2013) was recorded with percussionist and gong maker Steve Hubback from Wales.
Her latest album "Whispering Woods" (LAIKA 2019) is an all instrumental album featuring mainly Nadia's solo harp compositions.
Her latest recordings have been released as singles on Nadia's Spotify artist page and on all common digital download platforms.
Nadia's compositions, songs and arrangements are being played and taught worldwide by professional and amateur harp players.
Many of these compositions are featured in Nadia's YouTube channel which has reached over 3 Million views in total.
The video "A Trip to the Islands" has reached more than 1.4 million views.
Nadia currently plays the "Manjula" a Celtic harp built by German harp makers Frank Sievert and Burkhard Kleiner (rosewood, tuning: E flat, 35 strings, gut), the 27-string "Iona" by Bernhard Schmidt and the CAMAC Elektroharp 36 strings as main concert instruments.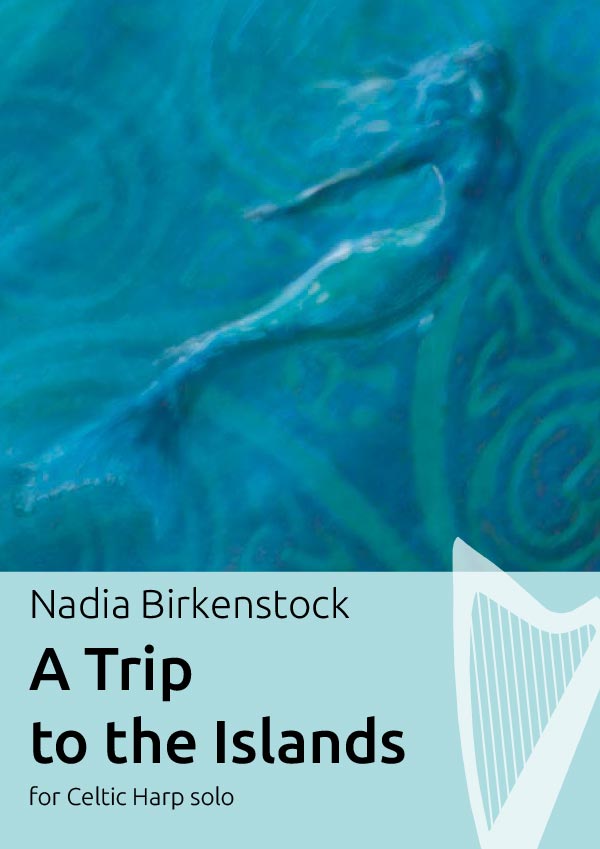 A Trip to the Islands
This composition was written for the album "The Enchanted Lake" that won the "Global Music Award".
While it is Nadia's most popular YouTube video and most demanded sheet music item it has also been featured in cinematic movies and television productions.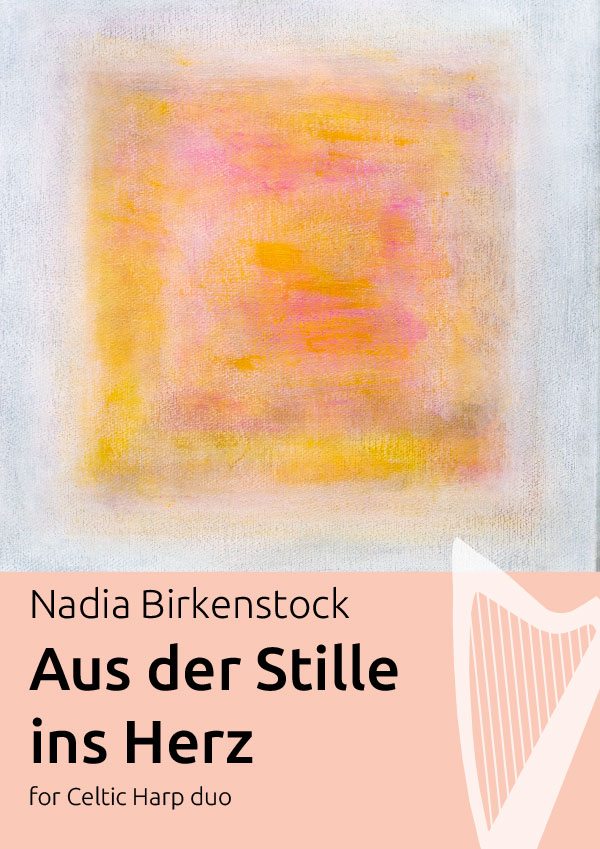 Aus der Stille ins Herz (From Silence to the Heart)
This composition for two lever harps has been comissioned by the harp duo "Resonance"
monthly spotify listeners
"Masterly and sensitive, powerful and quiet – a virtuoso. The artist had managed in a wonderful way to intoxicate her audience."
NWZ (Germany)